Rocketbook is one of the famaous products that was featured on Shark Tank. Shark Tank is one of the most popular TV shows in America. Which is an American business reality television series that started on August 9, 2009. During their show on, May 12, 2017, in Shark Tank season 8, episode 24, two entrepreneurs came with a pitch called Rocketbook. The founders behind this simple but innovative product was Joe Lemay and Jake Epstein
Read what happened to Rocketbook worth and net worth update in brief here.
What is Rocketbook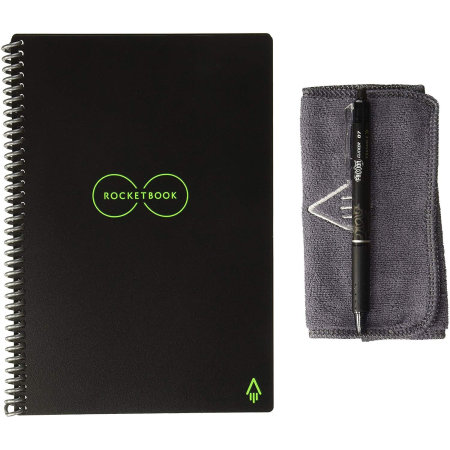 Rocketbook is a cloud-connected smart notebook, productivity, and app experience. It has so many benifits. First It's reusable secondly helps with connecting your writings to many apps you want. It eventually saves planets and it's pretty cool to use.
To sum up, RocketBook has,
It's reusable and easy to write and erase.
It helps connect your writings to the many apps you want.
It eventually saves planets, and it's pretty cool to use.
What happened to Rocketbook in Shark Tank
Joe Lemay and Jake Epstein appeared before sharks with good energy. They were confident with their invention Rocketbook. But from the beginning, somehow, they were not getting any support from the Sharks.
What did they offer to the Sharks?
For their product Rocketbook, Joe Lemay and Jake Epstein offered 10% shears of their company for $400,000.
Their pitch was it's a smart notebook that microwavable, reusable and practical. They done their presentation quite well.
Joe and Jake showed Sharks how to upload your notes to your desire app with just a single photo. Even though Shark Kevin O'Leary said that any I pad also could do the same, Rocketbook is far more straightforward and effective than I pad. It doesn't need to recharge, and it hasn't had complex hardware or softwares to do simple tasks.
For the cool erasing part, they invited someone, and Shark Robert Herjavec join them. Then ask him to draw anything he wants in the Rocketbook. Then they expose a microwave machine, and all sharks were surprised. Sharks were like, What in the world a microwave has to do anything with a notebook? After, Joe Lemay asks to put Rocketbook in the microwave and place a half-full mug on top. Shark Mark Cuban asked, "You really have to put mug and water?" Joe replied, "You really do. You put mug and water to control the heating process". Then passed their Rocketbook samples to Sharks.
Meanwhile Kevin O'Leary tryied to undervalue the product. He said
The only reason is I microwaving this book is to erase it, so I don't have to buy a new one. What's the matter with you guys? Don't you want to sell a second book? Why would I want to erase it? Why wouldn't you make it throw it away, and buy another one? Thank goodness you met me. You just solve your own problem.
Then Joe Lemay told sharks bout their sales so far.
We are doing pretty well. We sold about 75,000 Rocketbooks which cost 27$ retail. So far, 2.2 Million dollars in sales. People love it. It's fun.
Right after that one shark said
We are taking it way more seriously now.
Sharks final offer to Rocketbook.
Even though sharks said that they were started to give various reasons and make the way out of the deal with Joe Lemay and Jake Epstein, it looks like they were a little bit nervous when each shark turn back at them. Sharks reasons were shocking. Barbara Corcoran said by 2 to 3 years, and people will get tired of Rocketbook. Then Robert Herjavec said that 'he does not see it. Again Kevin O'Leary brought out his previous point of being reusable and lost all future sales theory and called it a 'dark and evil force that he can't understand. Lori Greiner said, 'I would never ever thought someone reinvent a paper binder, its just a notebook I don't like the steps,'. Mark Cuban just put the final nail to the coffin. He just asked what you see in 5 years and then giggles two times and finally told I'm out.
Rejecting from the Sharks didn't negatively impact Joe and Jake's courage & attitude. And most importantly nor to the Rocketbook.
Also read :